Rocket

Booster
Gamification Engine
Performance Analysis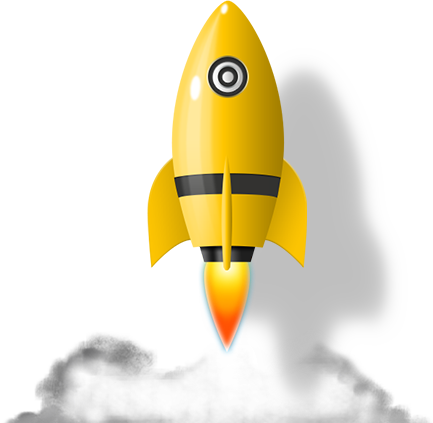 The RocketFid engagement and behavior analysis engine is the heart of the cloud based gamification solution. Highly scalable to meet the demands of heavy customer traffic, it provides a real-time user experience essential to the effectiveness of the solution. Also designed for a wide variety of situations, it supports by default an unlimited number of users and objectives of different nature, such as: single and multiple achievements providing trophies, earning points, challenges, secret objectives, and more ! The social dimension (essential to a successful gamification experience) is integrated into the management of social relations and can be extended to major social networks like Facebook or Twitter.
The very ease of installation and configuration is made possible through modern and intuitive interfaces providing comprehensive analysis reports as well as performance indicators to keep track of your user community.
Learn more on solutions tailored to your business offered by RocketFid.
Components
Several components integrated into the client application are available by default.
Widget button: enables the authentication of the user and provides his avatar, a progress bar and a level; widget activity: lists real-time actions performed by the user community, and highlights the best user of the day; widget web: this is the interface for the users, allowing them to see the remaining objectives to be achieved, awards won, and their associated statistics. It provides the overall ranking of competitors, allows to track and challenge their friends, configure personal settings, etc.
These components are integrated effortlessly through a javascript tag, each one being activated remotely from the administration interface. RocketFid's exclusivity : all these components have a Testing Mode to allow you validate targets behaviours directly on your production environment, without any impact on other users and before publication!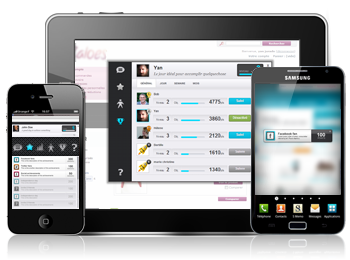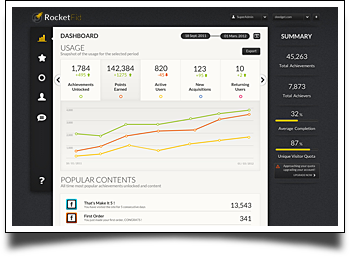 The administration interface
This is where you create your campaign and configure each component integrated into your website or business application. It allows you to customize objectives for your users in all languages supported by your application and manage their validation and publication states. We have put a lot of efforts in the development of that interface to provide the most intuitive and natural experience possible for administrators and marketing teams!
Finally, the administration interface provides reports on campaigns and loyalty indicators for each of your users. You can also export and link to other data sources. Numerous performance indicators are presented to better quantify the ROI of the solution.
Backend and API
This is the user and objectives management platform. Compatible with any type of online application thanks to its secure and efficient REST API (Application Programming Interface), it benefits from a highly available, scalable, flexible architecture, based on the latest web technologies. The RocketFid team still has a million feature and improvement ideas to share and will continuously add them to the product.
The backend system also includes user data analysis, providing key performance indicators in the form of reports, charts and profile segments. Finally, adapting campaigns to particular events is effortless and is instantly reflected on your sites, providing the responsiveness you need and deserve.
Learn More on the support and services offered by RocketFid.